BV40 MFS Compressor Wheels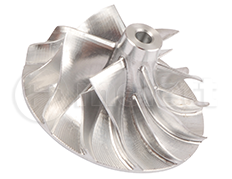 Melett BV40 Machined from Solid (MFS) compressor wheels replace the original BV40 compressor wheels and feature the new extended tip design.
Machined from solid compressor wheels are becoming increasingly popular as these new developments from the OE's continue to arrive in the aftermarket. The wheels are fully machined and balanced on leading 5-axis machining equipment, and precision balanced on fully automated balancing stations with auto-correction.
Melett Part No. 1303-040-400